Cambridge CAE (C1 Advanced)
Cambridge Exam Courses – CAE (C1 Advanced)
Why study Cambridge CAE (C1 Advanced) at NZLC?
Cambridge English exams are the most recognised English exams in the world and are accepted by employers, educational institutions and government departments around the world. Cambridge English: Advanced (CAE), is a thorough test of all areas of language ability at an Advanced level and the format of the exam is divided into Reading (+ Use of English), Writing, Listening, and Speaking.  NZLC CAE (C1 Advanced) courses prepare students with the language and skills they need to sit the exam once their course is finished.
•    Taught by qualified, supportive and friendly teachers.
•    Additional after-school study support twice a week.
•    Dedicated study areas with computers.
•    Extra CAE study materials available and homework is given regularly.
•    Regular mock tests, academic counselling and feedback.
•    Two or three speaking tests during the course.
•    Graduation certificate and academic report.
•    Guaranteed start dates.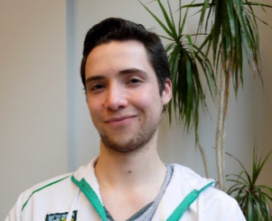 "Unforgettable life experience with great teachers and wonderful friends. When I think of my experience at NZLC, it will always bring a smile to my face and I passed the CAE exam!"